Dramatherapy Network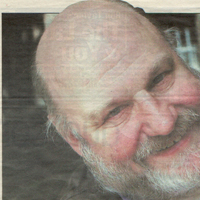 obituary
GORDON WISEMAN:
ACTOR, DIRECTOR, PIONEER IN THEATRE-IN-EDUCATION AND OF DRAMATHERAPY
The loss of Gordon Wiseman is a sudden shock to the many groups of people with whom he worked until just before his death on January 19, at Oldham Royal Infirmary.
Gordon Wiseman started his theatrical career at the Royal Scottish Academy of Music and Drama (1961-1964), where he won the James Bridie Silver Medal for acting, before journeying South for work in London. He found a new, and at the time, innovatory niche, when he joined the Theatre-in Education team at the Belgrade Theatre in Coventry. Throughout the '60s he led their initiative in creating programmes (TIE) for Special Education Schools, and at the same time created the Remedial Drama Group in London, which took participatory theatre programmes into hospitals, schools, children's homes and programmes for young offenders. This was followed with leading roles in the Cockpit TIE company, followed by directing at the Glasgow Citizens TIE. During the late '60s and early '70s, he toured Germany, Holland and Belgium with the Remedial Drama Group and ran innovatory workshops in London and Coventry on the importance of creative drama with people with special needs.
During the '70s Gordon lectured in drama at Salford and Manchester and was one of the founders of the British Association of Dramatherapists, fighting hard for it stay as a theatre process rather than a clinical specialism. He continued his overseas work as well as continuing to perform in children's theatre and TIE programmes in Scotland, Manchester and Oldham, where he moved after a season at Oldham Coliseum. Gordon continued his pioneering work in teaching and practice and gave freely of his time to students and groups of people with disabilities alike.
The '80s saw him join Pit Prop Theatre at Leigh, as an actor, followed by M6 Theatre in Rochdale where he worked for many years as an actor and director, continuing as an advisor up until his recent illness. He was also an active member of Full Circle Arts and Venture Arts, and ran their training workshops. During the '90s he continued his work with M6 and more recently the Peoples History Museum in Manchester where he both performed regularly and directed. He was working as a supervisor for dramatherapy practitioners as well as counselling people with stress related difficulties. He regularly ran workshops for Rowan Studio in Manchester and Glastonbury.
In the early years of the British Association of Dramatherapists, Gordon held office as was Vice Chair and then Chair, in particular using his skills as a negotiator and in constitutional work, especially in relation to equal opportunities and gendered language. He returned to the Executive Committee in recent years where he made a phenomenal contribution to their development and practice. He was a founder member of The Institute of Dramatherapy where he taught for many years, as well as contributing to training programmes in Roehampton, York, Manchester and St Albans. He was responsible for the initial course design of the Manchester Dramatherapy Diploma, ensuring its core of theatre and drama work, which for him was the essence of all TIE and Dramatherapy.
Gordon was a life long socialist and realised many of his ideas through his theme based theatre work, as well as living his philosophy through a very modest lifestyle and generosity to students and friends alike. Always an innovator in theatre, therapy, education and life, Gordon had a zest for living which never flagged. He strived for truth and authenticity in his work, placing exacting standards on himself and his fellow performers. He is sorely missed by performers and practitioners, the length and breadth of the country.
Gordon Wisemans funeral took place on Monday 28 January in a simple service at Oldham Crematorium when themes from Edith Piaf and Stephen Sondheim gave him a splendid send off. There were representatives from: Belgrade TIE, Pit Prop, M6, BADTh, Full Circle Arts, The Pump House Museum, Cockpit TIE as well as many teaching programmes associated with him. He is survived by two brothers, sister-in-law, and nieces and nephews.
James Gordon Wiseman born 15 March 1943 died 19 January 2002

Sue Jennings

Index to Gordie's pages
Return to Dramatherapy Network Home page

Copyright © Actionwork